Welten 780E Plates Manufacturers in India
Manufacturing Standards for Welten 780E Plates – ASTM, ASME, BS, DIN, EN All Welten 780E Plates Available in Size Range of 6mm to 300mm Sizes.

100% Quality Guaranteed, with Competitive Prices – PED Certified, ISO Certified, Major TPI and Approvals, OHSAS Certified

Welten 780E Plates Manufacturers, Tempered Steel Plates Exporters, Welten 780E Plates Jindal Dealers, Hot Rolled Plates Stockiest, Quenched Steel Plates Suppliers, HR Plates Factory in India.
Welten 780E Plates Manufacturers, Suppliers & Distributors in India.
We are a leading stockholder, supplier and manufacturer of Welten 780E plates in size range of 6mm to 300mm. We can supply cut to size Welten 780E plates, with both narrow and wide widths. All Welten 780E plates and sheet is hot-rolled as a first rolling step, after which it is annealed in order to attain homogeneous material characteristics.
High Quality Welten 780E Plates Suppliers in Sizes 6mm to 300mm
Cut to Size Welten 780E Plates Available
No Minimum Order Quantity for Welten 780E Plates
As one of the biggest supplier and dealer of Welten 780E plates, we sell our products not only to end users and traders, but also export a huge quantity overseas. Metline is a professional supplier of Welten 780E plates products. The main products include steel sheets, steel plates, steel coils, steel pipes, steel tubes, steel bars, steel circles, square steel, hexagonal bar, steel tube, steel pipe fittings, flanges, etc. And also we can produce according to the requirements of the customer. The annual sales volume of our company for quenched steel plates and other grades is about 5000 tons per year.
| | |
| --- | --- |
| Product Name | Welten 780E Plates |
| Width | 1500mm-3000mm |
| Thickness | 6mm-300mm |
| Length | 3000mm-11000mm. |
| Heat Treatment | Rolled/Normalised/N+T/QT |
| Production Technique | Hot-Rolled (HR) |
| Services | Shearing, Cutting, Blanking, Circles, Punching |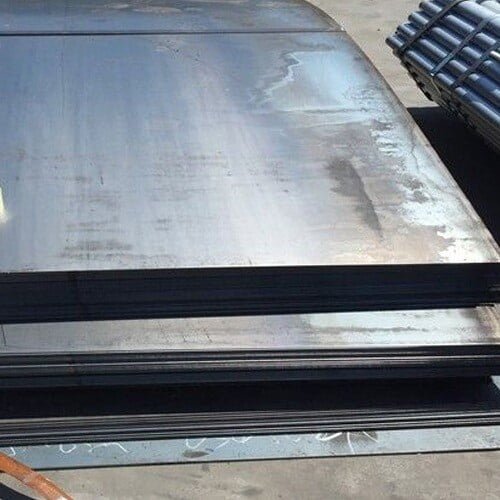 We Sell High Quality Welten 780E Plates at Reasonable Prices!
One of the biggest Welten 780E plates suppliers, dealers, manufacturers in India. If you are looking to purchase best quality Welten 780E plates, please write to us at sales@metline.in or call us on +919987448842
About Welten 780E Plates
These are steel plates that are known as low carbon plate which will contain a certain percentage of chromium by weight. The temper and quench process it got heat treated that makes it possess good welding and bending properties. They carry high yield cold plate forming with excellent cold formability, guaranteed mechanical properties, and good surface finish. This material is heat treated and uses the temper and quenches process and is having good welding as well as bending properties.
It is also having good resistant characteristics like resistance to corrosion, pitting, crevice, stress corrosion cracking, crevice corrosion, erosion, and abrasion. Thus it can be used easily at elevated temperature atmosphere. Quenching and tempering are processes that strengthen and harden materials like steel and other iron-based alloys. Quenched and tempered steel is a high strength and abrasion resistant steel with high fabrication qualities and mechanical properties.
Chemical Composition of Welten 780E Plates
| | | | | | | | | | | | | | |
| --- | --- | --- | --- | --- | --- | --- | --- | --- | --- | --- | --- | --- | --- |
| C | Si | Mn | P | S | Cu | Ni | Cr | Mo | V | Nb | B | Ti | Ceq |
| 0.22 | 0.55 | 2 | 0.025 | 0.015 | 0.5 | — | 1.6 | 0.6 | 0.1 | — | 0.01 | – | 2 |
Mechanical Properties of Welten 780E Plates
| | | | |
| --- | --- | --- | --- |
| Steel Grade | Yield Point (N/mm2) | Tensile Strength (N/mm2) | Elongation |
| Welten 780E | ≥685 (T≤50), ≥665 (T>50) | 780~930 (T≤50), 760~910 (T>50) | T≤: 16, 16 |
High Quality Welten 780E Plates Manufacturers in India!
Metline's Welten 780E plates processing capabilities include cut-to-length plates, blanking, and edge trimming services. We specialise in offering cut-to-length Welten 780E plates in thicknesses ranging from 6mm up to 50mm. We are specialist dealers of Welten 780E plates in India, and can offer the same in various shape and sizes. We are able to create value to our clients with quality products and competitive prices for Welten 780E plates. Tempering and quenching is basically a process which is processed for the purpose of strengthening the material or hardening it. The quenching and tempering process is able to strengthen materials, such as steel and iron-based alloys, to make them extremely tough. The process of quenching is also known as quench hardening.
Stock, Supply & Manufacturing Range for Welten 780E Plates
| | |
| --- | --- |
| Description | Welten 780E Plates |
| Standard | ASTM, ASME, BS, DIN, EN |
| Form | Coils, Foils, Rolls, Plain Sheet, Shim Sheet, Strip etc. |
| Origin | Indian Origin, European Origin, Japanese Origin, US Origin, Korea Origin, Thailand Origin, Taiwan Origin |
| Technique | Hot Rolled And Cold Rolled. |
| Thickness | 6mm-300mm |
| Width | 1500mm-3000mm |
| Length | 3000mm-11000mm. |
| Package | Standard Export Seaworthy Package, or as required. |
| Delivery | 7 to 15 days |
| Price term | Ex-Work, FOB, CNF, CFR, CIF |
|  MTC | As per EN 10204 3.1 |
One of the Largest Suppliers of Welten 780E Plates in India – High Quality & Lowest Price for Welten 780E Plates!
Metline Industries is a leading Welten 780E plates stockholder and distributor in India, with stock of over 600 tons available for immediate delivery. It also provides higher tensile strength, higher-yielding strength, higher mechanical strength, greater reliability, durability, ductility, weldability, toughness etc. We specialize in the supply of Welten 780E plates, with or without buyer or third party inspection.
We can supply cut to size Welten 780E plate with both narrow and wide widths. Material tests such as mechanical test, hardness test, positive material identification test, flattening test, micro and macro test, pitting resistance test and chemical analysis are some of the tests performed by the professionals.
If you are looking for Welten 780E plates manufacturer or suppliers, kindly contact us on +919833604219 or write to us at sales@metline.in
What are the Applications of Welten 780E Plates?
Welten 780E plates find application in Petrochemical industry, Gas production industry, Calorifiers, Heat exchangers, Pipelines, Storage tanks, Nuclear & Aerospace, Port building, Automobiles, Automobile Ancillaries, Paper industry.
Value Added Services for Welten 780E Plates
Packing – We can place Welten 780E plates as per your requirements. Normally we have Welten 780E plates packed on wooden pallets. On special requests from our customers, we can also do custom packing especially for our export customers.
Plasma Cutting – Metline has in-house plasma cutting facilities. We can cut the plates to suit your size requirements, through plasma or fire cutting.
Water Jet Cutting – For special size Welten 780E plates, we can also offer water jet cutting. However, the cost is higher for water jest cutting as compared to plasma cutting.
Laser Cutting – Laser cutting is the most expensive, and required for precision engineered parts. Welten 780E plates can be invoiced separately, and we can separately charge for laser cutting, if the customer accepts the same.
Custom Machining – We have in-house machining facilities, and can process Welten 780E plates as per your drawings. If you a are looking for precision engineered structural steel blocks, please do contact us.
Various Forms – We can offer flat rolled products in various forms such as Coils, Foils, Rolls, Plain Sheet, Shim Sheet, Perforated Sheet, Checkered Plate, Strip, Flats, Blank (Circle), Ring (Flange) etc.
Test Certificates & Documentation
All Products are Supplied with Mill Test Reports, as per EN 10204 3.1
Supplementary Tests Can be Carried Out – Hardness Test, Chemical Analysis – Spectro Analysis, Positive Material Identification – PMI Testing, Flattening Test, Micro and MacroTest, Pitting Resistance Test, Flaring Test, Intergranular Corrosion (IGC) Test
Documents – Complete set of documents are provided along with supplies of goods, such as Invoice, Packing List, Test Reports, Certificate of Origin, Insurance Copy, Heat Treatment Charts. We also send pictures of all materials, before delivery to all our customers to take their approval.
We Export Welten 780E Plates Across the Globe!
| | |
| --- | --- |
| Exports in Asia | Afghanistan, Armenia, Azerbaijan, Bangladesh, Bhutan, Brunei Darussalam, Cambodia, China, Georgia, Hong Kong, India, Indonesia, Japan, Kazakhstan, South Korea, Kyrgyzstan, Laos, Macao, Malaysia, Maldives, Mongolia, Myanmar (ex-Burma), Nepal, Pakistan, Phillipines, Singapore, Sri Lanka (ex-Ceilan), Taiwan, Tajikistan, Thailand, Timor Leste (West), Turkmenistan, Uzbekistan, Vietnam |
| Export to Africa | Burundi, Comoros, Djibouti, Eritrea, Ethiopia, Kenya, Madagascar, Malawi, Mauritius, Mayotte, Mozambique, Reunion, Rwanda, Seychelles, Somalia, Tanzania, United Republic of Uganda, Zambia, Zimbabwe, Angola, Cameroon, Central African Republic, Chad, Congo (Brazzaville), Congo, Democratic Republic of the Equatorial Guinea, Gabon, Sao Tome and Principe, Algeria, Egypt, Libyan Arab Jamahiriya, Morroco, South Sudan, Sudan, Tunisia, Western Sahara, Botswana, Lesotho, Namibia, South Africa, Swaziland, Benin, Burkina Faso, Cape Verde, Cote d'Ivoire (Ivory Coast), Gambia, Ghana, Guinea, Guinea-Bissau, Liberia, Mali, Mauritania, Niger, Nigeria, Saint Helena, Senegal, Sierra Leone, Togo |
| Export to America | Anguilla, Antigua and Barbuda, Aruba, Bahamas, Barbados, Bonaire, Saint Eustatius and Saba, British Virgin Islands, Cayman Islands, Cuba, Curaçao, Dominica, Dominican Republic, Grenada, Guadeloupe, Haiti, Jamaica, Martinique, Monserrat, Puerto Rico, Saint-Barthélemy, St. Kitts and Nevis, Saint Lucia, Saint Martin, Saint Vincent and the Grenadines, Sint Maarten, Trinidad and Tobago, Turks and Caicos Islands, Virgin Islands (US), Belize, Costa Rica, El Salvador, Guatemala, Honduras, Mexico, Nicaragua, Panama, Argentina, Bolivia, Brazil, Chile, Colombia, Ecuador, Falkland Islands (Malvinas), French Guiana, Guyana, Paraguay, Peru, Suriname, Uruguay, Venezuela, Bermuda, Canada, Greenland, Saint Pierre and Miquelon, United States |
| Export to the Middle East | Bahrain, Iraq, Iran, Israel, Jordan, Kuwait, Lebanon, Oman, Palestine, Qatar, Saudi Arabia, Syria, United Arab Emirates, Yemen |
Email us on sales@metline.in or Call us on +919833604219
If you are interested in purchasing Welten 780E plates products, you can feel free to contact us directly. Your specific enquiry will be highly treated. We will quote you our most favorable price.